Article first published in:
Wicklow Mountain Views – The Newsletter of the Wicklow Uplands Council.
Issue No. 30 – Summer 2019
Litter Pick Of The Sally Gap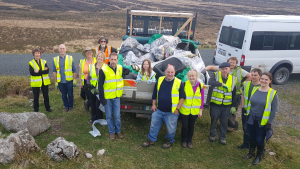 The Wicklow Uplands Council's annual litter pick event took place in April and saw a sizable team of volunteers tackle a 7km stretch of the scenic Sally Gap Road. Splitting up into smaller groups along the route, they found everything from exhausts, speakers, carpets and an array of domestic rubbish scattered along the roadside, drains and adjacent lands.
Organised in conjunction with Pure Project, An Taisce National Spring Clean and the National Parks & Wildlife Service, the group extensively cleaned the section that runs past the Coronation Plantation till reaching the well-known Sally Gap crossroads. In total over 60 bags were filled during the evening event.
The uplands are a very popular destination for visitors and recreational users, who are attracted to the region's stunning landscape and ample choice of activities, however, unfortunately roadside litter is a major challenge. Wicklow Uplands Council promotes the simple message – Please enjoy the uplands responsibly, respectfully and follow the Leave no Trace Principles.
The litter pick event was filmed by Richard Herlihy who created this wonderful video full of information and interviews.
Newsletters Available Online
This newsletter and many of the previous publications are available online to view and download as PDF files directly from the Wicklow Uplands Council website.
CLICK HERE for this issue – Summer 2019.
CLICK HERE to view the full selection of newsletters dating back to 2006.