The SUAS Project was particularly keen to explore how hill farmers 'Sense of Place' was shaped by the cultural and natural heritage of their home place
The Wicklow and Dublin Uplands form the largest contiguous upland area in the country, a distance of some 40 kilometres from North to South and varying from 15 to 30 kilometres wide. While historically a place of sparse settlement, the uplands is a living landscape that has been shaped by the activities of those who have inhabited this cherished landscape for generations.
The SUAS Project was interested in recording hill farmers' 'Sense of Place'.  SUAS was particularly keen to explore how this Sense of Place was shaped by the cultural and natural heritage of their home place, and the links between this heritage and biodiversity in the uplands.
A Cultural Heritage Practitioner, Dr Críostóir Mac Cárthaigh, of the National Irish Folklore Archive University College Dublin (UCD), was engaged to carry out a desk study of three focus areas within the SUAS Project area. He visited each location, conducted one to one interviews with the hill farmers and shareholders, and documented the character of the cultural landscapes of each area.
Three SUAS commonages were selected for the study:
Granamore in west Wicklow
Ballybeg in south Wicklow
Glassnamullen-Powerscourt Paddocks in north-east Wicklow.
A desktop study of the historical and cultural background of the three focus areas was conducted. This included relevant published sources, demographic statistics, a historical profile of land use and ownership in the focus areas, and a review of unpublished folklore and ethnological source material. A number of field surveys of vernacular buildings were carried out, and a photographic record of cultural landscape features compiled.
The Recording Project also provided an opportunity to document the historical and changing cultural context of commonage use, the traditional profile of upland farming, and its domestic economy and material culture. Furthermore, it was very beneficial for those farmers in the focus areas to express their views on the overall aims of the SUAS Project.
The full report is now available by clicking the icon below: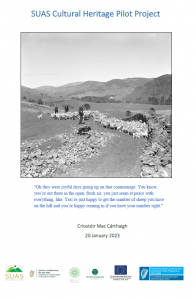 13 interviews were conducted during the project with full and partial transcripts made. The original recordings were catalogued and archived along with a visual record of the focus areas to the National Folklore Collection in UCD