Article first published in:
Wicklow Mountain Views – The Newsletter of the Wicklow Uplands Council.
Issue No. 30 – Summer 2019
Responding To Climate Change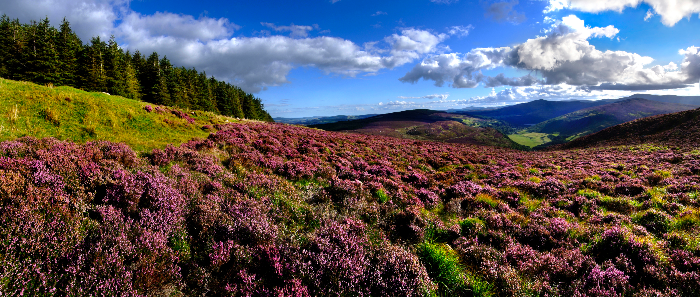 The Earth's climate is changing. This change is due to an increase in the amount of greenhouse gases in the atmosphere as a result of human activities. Over the past number of years, we have encountered the effects of climate change in Ireland. In line with the all climate predictions, destructive windstorms, snowstorms, flooding and drought are becoming a more common feature of our weather system. These abnormal weather conditions are having an increasing impact on the environment, biodiversity, economies and our health.
There is growing public concern to climate change and in response many countries have now declared a 'Climate and Biodiversity Emergency'. On May 2nd, Wicklow County Council was the first local authority in the country to declare an emergency, a week before the Dáil. The Council have recently put to public consultation, their Climate Change Adaption Strategy, which sets out how they will support local communities throughout the county and deliver their services in response to climate change. Wicklow Uplands Council has made a submission on the strategy.
The Government has also published their long anticipated Climate Action 2019 Plan. The plan has been welcomed cautiously by many, especially by those in rural areas. While there is a general acceptance of the need to reduce our carbon emissions, there is a fear that those living in rural communities may be impacted disproportionately. The rise in carbon taxes, the equalisation of fuel prices for petrol and diesel, and the move towards electric vehicles (EV's) will be felt harder in rural areas. Oil-fired burners, which are to be banned by 2030, are currently the only affordable option for many households, while a lack of charging facilities will need to be addressed before the transition to EV's. The government is also aiming to increase renewable energy production to 70% by 2030. This will surely mean a large increase in the number of wind turbines around the country and rural and upland areas will certainly be the target for onshore wind developments.  
However, there are also opportunities for rural communities in the plan. The provision for microgeneration is very welcome and will allow those who can produce electricity to sell energy back into the grid. There may well be prospects for local groups to set up co-op arrangements to produce electricity. Some local groups have already established as Sustainable Energy Communities (SECs) and are exploring how they can make their communities more energy efficient and are investigating the potential for microgeneration opportunities in their localities.
We are undoubtedly in a time of change and Wicklow Uplands Council is also revisiting its 'Renewable Energy Policy', which was first developed back in 2009 when wind energy developments in the county were in their infancy. A subcommittee is being formed to develop an updated policy in the coming months.
Newsletters Available Online
This newsletter and many of the previous publications are available online to view and download as PDF files directly from the Wicklow Uplands Council website.
CLICK HERE for this issue – Summer 2019.
CLICK HERE to view the full selection of newsletters dating back to 2006.