Article first published in:
Wicklow Mountain Views – The Newsletter of the Wicklow Uplands Council.
Issue No. 30 – Summer 2019
Blessington E-Greenway Gets The Go Ahead
Wicklow County Council has been allocated €5 million in funding from the National and Regional Greenway Fund. This is in respect of a new E-Greenway which will cover 42.4kms of walking and cycling trail through forest, woodlands and the spectacular scenery adjacent to the shoreline of Poulaphouca Reservoir – more commonly referred to as the Blessington Lakes.
The new E-Greenway encircles a major sustainable source of electricity generation. It will have E Bikes as a major attraction with charging points along the route and solar powered charging points also for other electric vehicles. This will then link in with a wider countywide project for E Cycling. The E-Greenway will be designed, constructed and operated with Excellence, Exercise, Energy, Environment, Ecology, Exploration and Ease of Access considerations to the fore at all times. Blessington E-Greenway will become Ireland's first E-Destination.
Blessington E-Greenway is in complete alignment with the National Greenway Strategy. It 'ticks all the boxes' as required in the national strategy document:
It is ideally located to link in to the multitude of walking and cycling routes that currently exist in Wicklow. It will be a 'flagship project' for all that is great about 'Wicklow Outdoors'.

At 42kms length in an area of outstanding natural beauty and in close proximity to Dublin City, Dublin Airport and Port and Rosslare Harbour, Blessington E-Greenway will quickly become a major international tourism attraction.

It will also serve to meet the growing need among the local Irish community for access to the great outdoors as envisaged in programmes such as Healthy Ireland.

Blessington E-Greenway is substantially "off-road" and traverses some magnificent scenery along the shores of the Blessington Lakes, which sits against the backdrop of the beautiful Wicklow Mountains.

* The Lakes area encompasses a range of opportunities for recreation and leisure such as Avon Ri Lakeshore Activity Resort, Tulfarris Hotel and Golf Resort and the internationally renowned Russborough House and Gardens.

* It will be fully accessible by people with disabilities at all access points.  

* Blessington E-Greenway has evolved over almost 10 years using one of the most comprehensive stakeholder consultation processes that is possible to achieve. It has widespread community support and only one principal landowner involved – the ESB – and that organisation has been hugely supportive to the project which, importantly, has full planning permission in place. 
The success of Greenways in other areas such as Mayo and Waterford, has provided clear evidence of the potential that such Greenways provide for development in areas in which they are sited. The objective of completing Blessington E-Greenway, in short, is to deliver a world-class sustainable experience for visitors which will make a valuable contribution to the economy of Wicklow and also to the realisation of the vision and values set out for 'Ireland's Ancient East' brand proposition.
John Horan,
Chairperson, Blessington Town Team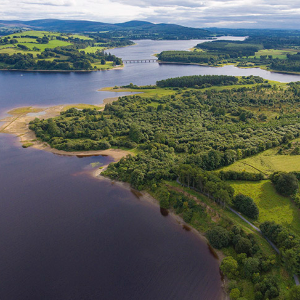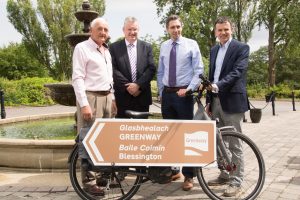 Newsletters Available Online
This newsletter and many of the previous publications are available online to view and download as PDF files directly from the Wicklow Uplands Council website.
CLICK HERE for this issue – Summer 2019.
CLICK HERE to view the full selection of newsletters dating back to 2006.