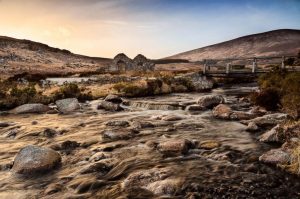 We are celebrating Poetry Day Ireland, with an evocative piece from acclaimed Glenmalure-based poet, Jane Clarke, that explores the rich mining heritage found throughout the Wicklow Uplands.
– Pit Ponies Of Glendasan – 
Hitched to an eight-hour shift
in britchens, hames and traces,
they follow the miners' carbide lights,
halt under hoppers, turn
on a thruppence and lean into their collars
to pull the five-wagon train.
Low-set cobs from the Curragh,
a piebald and two greys, their hooves
fall heavy as hammers on granite.
They haul lengths of larch for pit props,
pneumatic drills, boxes of gelignite,
and, from time to time, deliver
injured men back to daylight.
The miners pat their necks in passing
and feed them windfall apples;
comrades in toil and the first to stall,
legs locked at a sudden rumbling, a change
in the air or the rush of running water.
(This work formed part of the poetry programme titled ' The Miners Way' for BBC Radio 4, first broadcast in May 2020).
Irish poet and resident of Glenmalure, Jane Clark was inspired by the landscape, heritage and stories that emerged during the development of The Miners Way, a new 19km walking trail launched in 2019. The trail traverses the stunningly beautiful glacier-formed valleys of Glendasan, Glendalough and Glenmalure, visiting six old, disused mining sites and villages along the way. Trail users discover a collection of interpretative panels that share information and better illustrate the heritage at each of the points of interest. Should you like to explore this fascinating mining heritage and some of Wicklow's most stunning landscape, please visit https://bit.ly/3vngecm
Organised by Poetry Ireland / Éigse Éireann the national organisation for poetry in Ireland, Poetry Day Ireland celebrates, acknowledges and fosters poetry with a collection of in-person and online events. Please visit their website to view the full programme. One such event, which sees Jane Clarke participating, is a very special episode of the 'Eat the Storms' podcast series titled '32 Counties 32 Stars'. Commencing at 5pm today and using your preferred podcast platform, the episode consists of 32 poets each reading one poem to represent their county. https://bit.ly/3KjfJ7y
The photo above is of the old church that serviced the mining village of Glendasan.