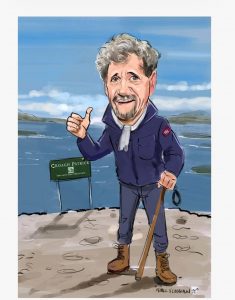 Wicklow Uplands Council would like to wish Charlie Bird, and everyone taking part with the Climb with Charlie challenge this weekend the very best of luck.
As former RTÉ journalist Charlie Bird tackles Croagh Patrick this weekend in aid of the Irish Motor Neurone Disease Association and Pieta House, tens of thousands of people will be joining over 217 different climbs and with 1,333 various fundraisers across the country.
Mr Bird revealed in December how he had been diagnosed with Motor Neurone Disease, which is a progressive neurological condition that attacks the motor neurones, or nerves, in the brain and spinal cord.
Charlie will climb Croagh Patrick, along with supporters, friends and famous faces as he raises awareness and funds for the Irish Motor Neurone Disease Association and Pieta House charities on Saturday, the 2nd of April. At the time of publication a total of €1,073,351.98 has so far been raised.
To donate or to find an event close to you, please visit www.climbwithcharlie.ie
To ensure it's a safe and enjoyable experience for all, The Council would like to share the follow guidelines:

Park Sensibly – Parking in rural environments is often very limited. Please carpool where possible (with Covid precautions in mind). Do not block gateways or entrances – especially at forest barriers. Leave plenty of room for emergency services and work vehicles to pass.
Plan Ahead – know your route, and if its more challenging, ensure that someone in the group has a map and the navigation skills to guide the group.
Communications – Share your planned route and schedule with others and bring a fully charged phone with you.
Weather – check the weather in advance of setting out and plan accordingly.
Bring a Backpack – If it's not waterproof, perhaps line it with a plastic bag.
Stay Hydrated – Bring plenty of snacks and water.
Clothing – Prepare for all weather conditions. Wear/bring comfortable and waterproof clothing. Weather in the uplands can be cooler and can change in an instant. Layers are best rather than heavy/thick items.
Footwear – Where appropriate footwear that offers ankle support and grip on rocky/wet/muddy terrain.
Fitness – it's the taking part rather than over exerting yourself that you'll remember. Be safe, do not go beyond your personal fitness and skill level.
Dogs – The Council strongly suggests that dogs should be left at home. Lambing season and ground-nesting birds are a particular concern at this time of year both on farmland and on open mountains.
Leave No Trace – Bring all of your litter home with you.
Remember in an emergency, call 112 / 999
Finally – Smile and Enjoy the day.